EPA PANEL LABELING REQUIREMENTS FOR FABRICATORS OF COMPONENT PARTS OR FINISHED GOODS
EPA and CARB distinguish between composite wood panels manufactured by certified facilities versus component parts or finished goods such as flooring, cabinetry, or furniture which are made using certified composite wood panels.
Please refer to the following requirement specified in EPA TSCA Title VI:        
EPA TSCA Title VI §770.45 (c) states:  "Fabricators of finished goods containing composite wood products must label every finished good they produce or every box or bundle containing finished goods. If a finished good (including component parts sold separately to end users) is not individually labeled, the importer, distributor, or retailer must retain a copy of the label, be able to identify the products associated with that label, and make the label information available to potential customers upon request."
What does this mean to you?
If you are a fabricator of component parts or finished goods containing composite wood products including HWPW-VC, HWPW-CC, MDF, thin-MDF and/or Particleboard:
1. You must ensure that the composite wood products used to fabricate the finished good were manufactured in compliance with CARB ATCM 93120 and EPA TSCA Title VI regulations. In addition, you must keep records identifying the original panel producer (and supplier) as well as the date of panel production. This requirement also applies to certified panel producers who fabricate component parts or finished goods using the certified composite wood panels that they produce.
2. You must label each individual finished good you fabricate or, if this is not possible, each box or bundle containing the finished good. If you only label each box or bundle, then the downstream importer, distributor, or retailer must keep a copy of the box or bundle label.
3. You must apply the label as a stamp, tag, or sticker.
4. Fabricator labels must include the following information in legible English text:
a. Fabricator's name (or the name of a responsible downstream fabricator, importer, distributor, or retailer if you receive and maintain written consent from the downstream entity);
b. Date of fabrication of the finished good in month/year format (mm/yyyy);
c. Statement that the finished goods contain composite wood products which comply with EPA TSCA Title VI and CARB ATCM 93120 regulations.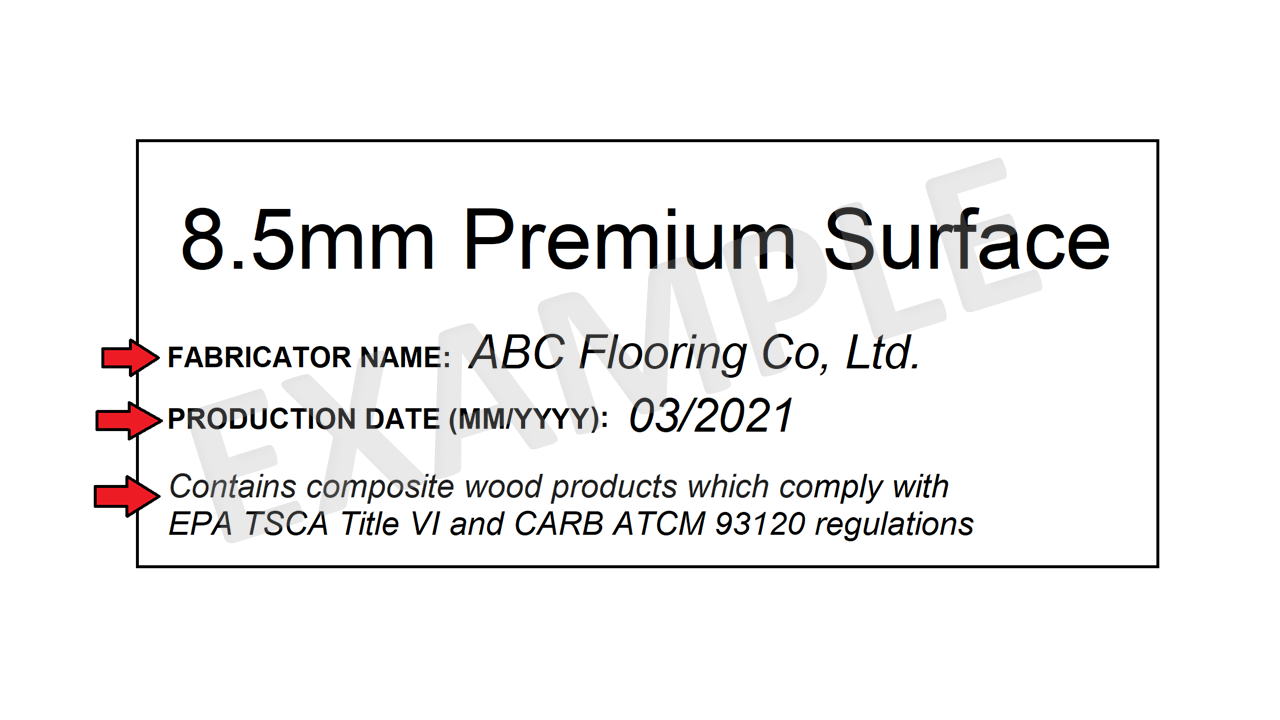 5.  In addition to the above labeling requirements, fabricators who produce finished goods made using composite wood panels that were manufactured in accordance with an approved No-Added Formaldehyde (NAF) and/or Ultra-Low Emitting Formaldehyde (ULEF) exemption or ULEF-Reduced-testing provision are permitted to include a statement on the label which indicates the finished goods were made with NAF or ULEF resins. If the finished good contains both certified composite wood panels as well as either NAF-exempt or ULEF-exempt panels, then the compliance statement must clearly state this.
If you are an importer, distributor, or retailer of component parts or finished goods containing EPA/CARB-compliant HWPW-VC, HWPW-CC, MDF, thin-MDF and/or Particleboard panels:
6. You must verify that purchased finished goods or component parts contain compliant labels as per the EPA and CARB requirements. A receiving inspection process should be implemented to assure that incoming component parts and finished goods are labeled in accordance with EPA/CARB requirements. Records of the outcome of the receiving inspection should be retained for at least 3 years.
7. If each finished good is not individually labeled, you must keep a copy of the compliant label contained on the finished goods box or bundle.
8. You must leave labels intact on finished goods, including component parts that are sold separately to end users.
Finally, as specified in TSCA Title VI Part 770.45(f): "All… finished goods (or boxes or bundles containing finished goods) must be properly labeled… before being imported into the United States…"
This requirement is critical.  Component parts or finished goods that were not properly labeled by the Fabricator at the time of production are not permitted to be imported or distributed in the USA for any reason. Labeling errors are considered by EPA to be critical violations and fabricators, importers, distributors, and retailors can be held legally responsible for failing to comply with these and other EPA/CARB requirements.
If you have any questions regarding these requirements or if you would like to verify your facility's operational conformity regarding this or other matters, please do not hesitate to contact the Benchmark Certification Team at certificationsupport@benchmark-intl.com or by calling +1 (541) 484-9212.
NOTICE: The content of this post and/or any referenced materials created or published by Benchmark International, LLC is provided for general information purposes only. This information is neither intended, nor should it be construed, as legal advice. Neither Benchmark International, LLC nor any of its related companies, subsidiaries, affiliates, managers, or employees make any warranty, express or implied, regarding the information defined or referenced herein. In the event of an inadvertent content error or inconsistency, the requirements specified in the applicable statute, regulation, or standard shall dictate. Where Benchmark International, LLC has provided copies of this information in other than the English language, Benchmark has made reasonable efforts to verify the accuracy of such translations. However, in the event of inadvertent language translation errors, the meaning of the original English version shall dictate. The copyright for this information is the property of Benchmark International, LLC. This information is supplied on the expressed condition that the content must not be used for purposes other than that for which it has been supplied. This information may not be reproduced, republished, distributed, transmitted, broadcast, or otherwise exploited in any manner, in whole or in part, without the prior written permission of Benchmark International, LLC. All rights reserved.
/wp-content/uploads/2018/10/bmi_ocean.jpg
1132
2200
Max Boath
/wp-content/uploads/2018/10/logo-benchmark-web-300x51.png
Max Boath
2021-03-22 15:06:38
2021-03-22 15:24:26
Certification Quick Sheets Edition 3: EPA TSCA Title VI & CARB ATCM 93120 Fabricator Labeling Requirements